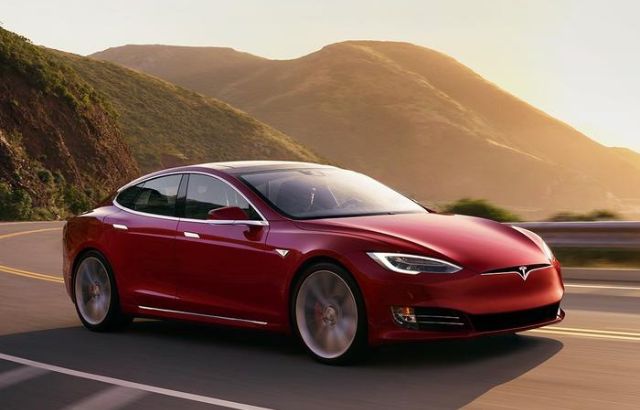 Drawing the car from its front view is more attractive than another view. If you are thinking of drawing the front of a car, then you can do it. It's a piece of cake if you know how to draw.
We will go through the steps to help you draw a realistic car sketch. All you have to do is follow the following steps:
Read More: How to Draw a Car Crash
Gather the necessary materials.
Make sure you have all material and tools which is needed. If you are going to draw something, you must first collect the necessary materials. Which are:
Pencil.
Paper.
Eraser.
Ruler.
Sketchbook.
Ink.
Paint.
Charcoal pencil.
Learn the basics of drawing a car – shapes, lines, and proportions 
If you are doing something new. It would help if you got acknowledge about its basics. Basics will help you to pick that quickly. 
Now I am providing you with a list of sketch basics: 
Shape/edge.
Measurement.
Light (value).
Space (perspective)
Sketching the Basic Shape, bumper, and hood of the car

After grabbing your sketch tools and going through their basics, the next step is taking a pencil and making a car outline.
You have to move your pencil according to the above picture. Your outline should be perfect. Thus, your remaining sketch will be perfect.
Draw three horizontal lines. As shown in the picture.
Then, draw two vertical lines from its ending point. As shown in the above picture.
The first above area will be the hood of the car.
The lower area will be said as a bumper. The outline is the basic shape or skeleton of the car. The remaining parts are drawn on the outline. 
Learn More: How to Fix a Car Bumper Falling Off
Drawing the Wheels

I don't want to put much effort into wheels. So, I will keep it simple. You can draw a car by following several steps:
Draw a rectangle down to its outline. It will look at the wheel. as shown in picture 1. 
Again, draw a rectangle on the right side of the car corner, which will look at the front right wheel, as shown in picture 2.
Drawing the Grille

Now, draw a grille for your car. For this, all you have to do is:
Draw a rectangle shape in the center. But the rectangle should be curved from both sides, as shown in the above picture. 
Now, draw two small rectangles on both the left and right sides, which will look at fog lights, as shown in the above picture.
Here is your grill get completed.
Adding the Headlight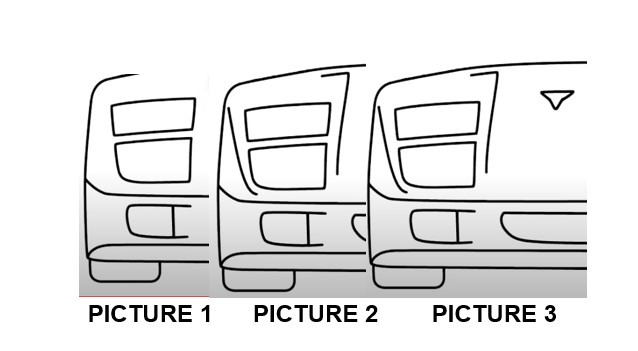 After drawing a grill, now move towards car headlights. For drawing headlights, all you have to do is:
Draw two rectangles upper to the grille. Looking for headlights. As shown in picture 1.
Make two vertical lines from the right upper and left lower of headlights as shown in picture 2.
Make a triangle side to the headlight. As shown in picture 3.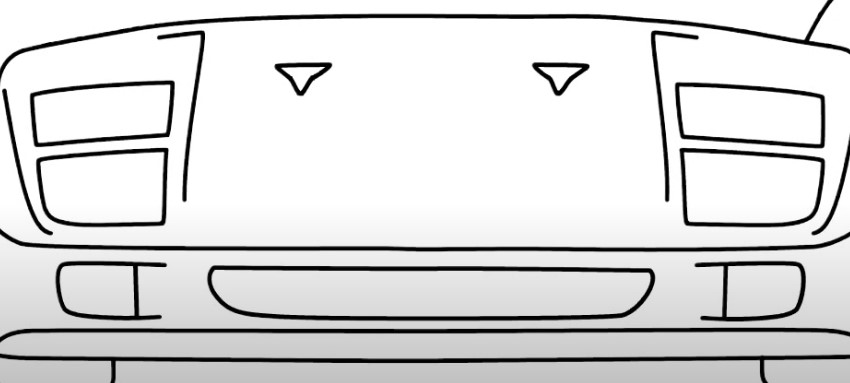 Follow the same steps on the right side. Thus, it will give you both left/right headlights, as shown in the above picture.
Here is your headlight are ready.
Add the rooftop of a car.

Now we will discuss the steps for drawing a rooftop.
Draw a semi-octagon as a rooftop. As shown in picture 1.
Draw a semi-octagon again inside the first octagon giving a complete look at the rooftop.
Erase the mistakes, if any.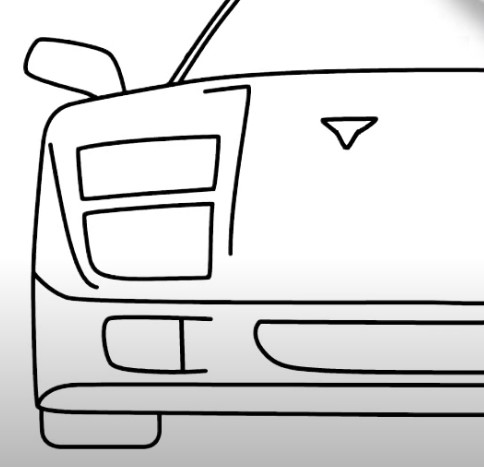 Now look at the original sketch, then move your look to your sketch. Examine every part of your car. Make sure your sketch car parts are prominent. 
Grab your eraser and wipe it up if you notice any extra lines. 
Suppose you notice any missing lines. Then mark the line.
Shade the drawing carefully.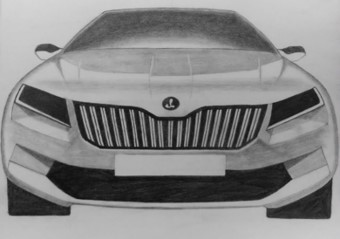 Suppose you are not going to paint your sketch. Then it would help if you gave shade to your sketch car.
For shading your car, all you have to do is:
Sharpen your pencil.
I bent it on the sketch car part
Start gradually moving it. It will look at the shade.
You can shade your full car. As shown in the above picture, you can also shade a few of your car parts.
Add the colors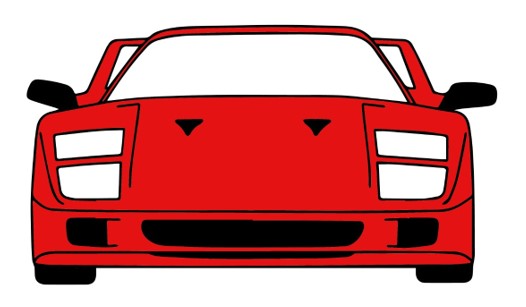 If you want to spread the color throughout your sketch. Then, choose any color according to your choice. I will go with a red color. Here is how my car looks after the color in the above picture.
Expert Opinion
Many creative artists try to draw a car front look. It's not that much tough if you are acknowledged in the correct ways.
All you have to do is grab your pencil. Please keep the original sketch in front of you, draw its outline, then, 1 by 1, draw its remaining parts.
I discussed all the steps briefly, which will help to learn how to draw the front of a car.
Drawing a car from the front or back can improve your motor cells and eye-hand coordination.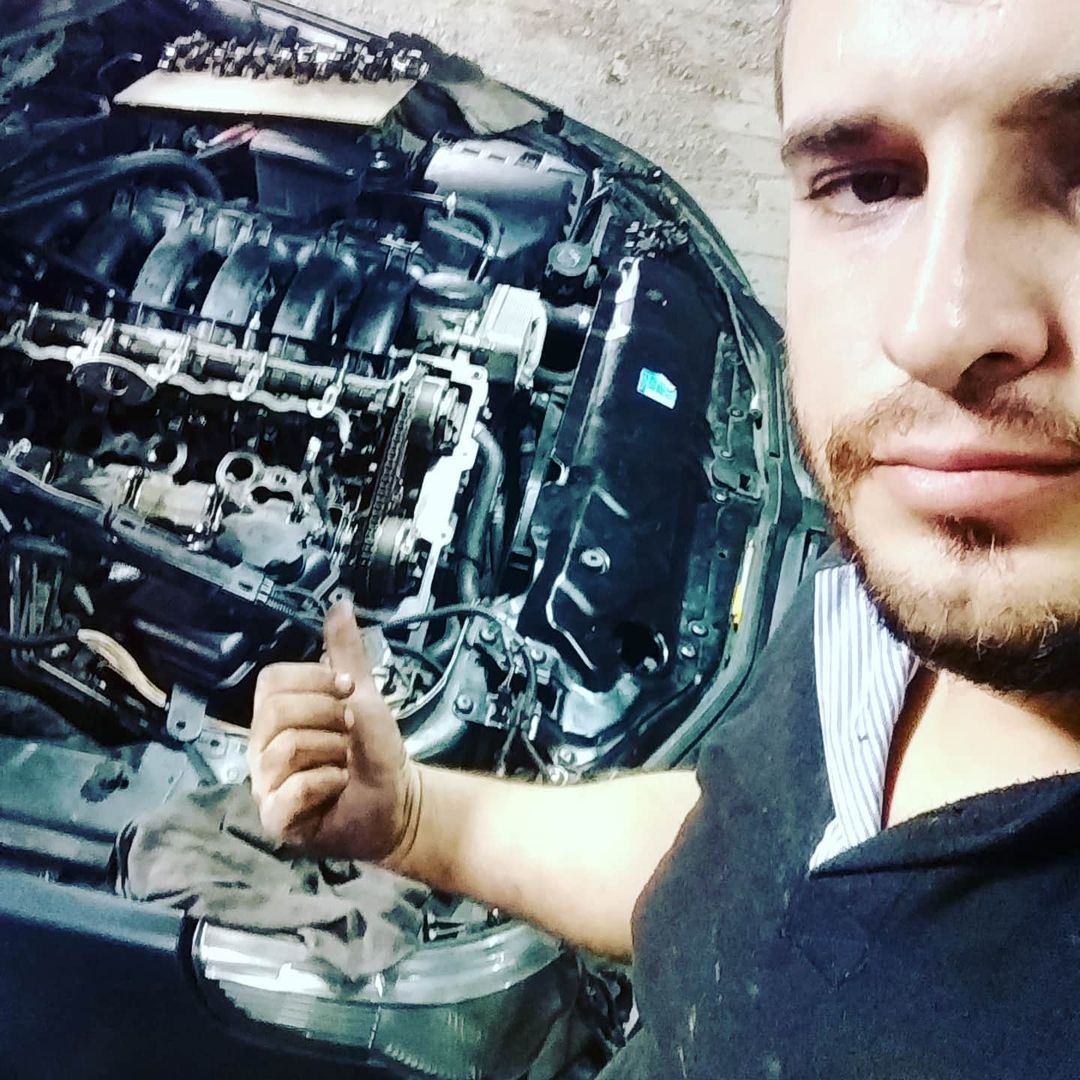 I am an Automotive specialist. I graduated from Michigan with Bachelor in Automotive Engineering and Management. Also, I hold degrees in Electrical and Automation Engineering (BEng), Automatic and Industrial Electronic Engineering, and Automotive Technology. I have worked at General Motors Company for over five years as the Marketing Operations Production Coordinator. Now, I own my garage in Miami, Florida. I love cars and love to share everything about them with my readers. I am the founder of the Automotiveex blog, where I share everything about automotive, like car news, car mechanical issues, and anything else that comes up in my blog posts.