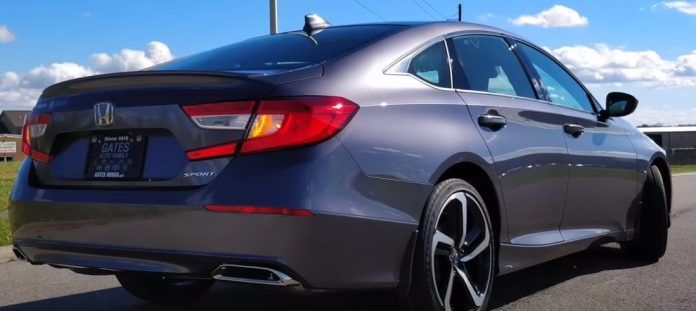 The Honda Accord Sport 2.0T model 2019 is one of the ten best American cars; it is also said to be the "best family car of 2019". Honda Accord's remarkable execution and shocking evolution reach it to the top every year. 
Reasonable, comfortable, reliable, driver-friendly handling, outclass exterior and interior, it's an all-in-one package pro car choice. 
Furthermore, if we have a look at its line 4 cylinder with single scroll MHI TD03 Turbo and Internal Wastegate engine, 20.8 boost pressure, 252 @ 6500 rpm Horsepower (SAE net), and many more features that are never written but we will shed light on it. All these features make the Honda Accord's performance feel like a sports car. 
In this article, we are going to review the 2019 Honda Accord Sport 2.0T from every perspective and discuss the following:
Overview of Honda's Legacy
Key Features and specificationsof the 2019 Honda Accord Sport 2.0T
In-depth review of the 2019 Honda Accord Sport 2.0T Performance
Interior and Exterior Review of the 2019 Honda Accord Sport 2.0T
Safety Features and Ratings of the 2019 Honda Accord Sport 2.0T
Pros and Cons of the 2019 Honda Accord Sport 2.0T 
Customer Reviews on the 2019 Honda Accord Sport 2.0T
My Opinion: Is the 2019 Honda Accord Sport 2.0T Worth It?
Overview of Honda's Legacy
In the overview, if we are talking about Honda's storied legacy, then we are talking about the legacy of excellence and innovation. Honda company was established in 1948, and it is still in demand because of its customer satisfaction, excellence in all products, and unrelenting commitment to innovation.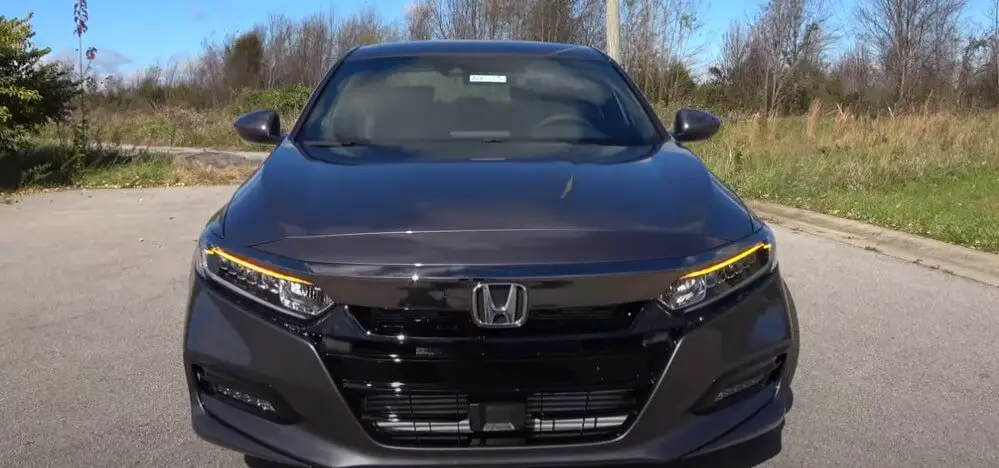 Honda is spread over 30 countries, and its iconic models like the Civic and Accord are in demand. Honda's first product was a Dream "D-type" motorcycle, and Honda's recent product was the Honda Accord 11 generation. This shocking evolution shocked the whole industry. It is also manufactured as an automotive powerhouse. Hondas had launched the T360 mini truck in the industry of automobile. Furthermore, the Honda Civic in 1972 left a lasting mark.
Key Features and Specifications of the 2019 Honda Accord Sport 2.0T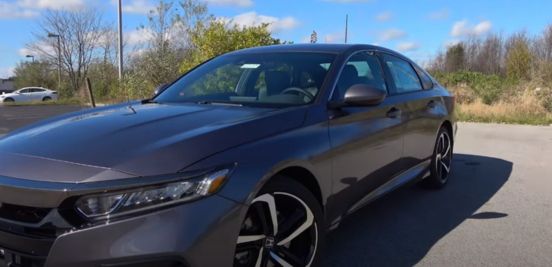 We will pin all 2019 Honda Accord Sport 2.0T key features and specifications. Here are the following:
Sporty exterior styling
Dual exhaust outlets
Sport seats
Remote engine start
Leather-wrapped steering wheel
10-speed automatic transmission
19-Inch alloy wheels
2.0-Liter turbocharged engine
LED headlights and taillights
8-Inch touchscreen infotainment
Dual-zone automatic climate control
Honda sensing suite
Now we are going to have a look at its all specifications:
| | |
| --- | --- |
| Engine | In-Line 4-Cylinder with Single-Scroll MHI TD03 Turbo and Internal Wastegate |
| Displacement | 1996 cc |
| Horsepower | 252 @ 6500 rpm |
| Boost Pressure | 20.8 |
| Torque | 273 lb-ft @ x1500-4000 rpm |
| 73.0 mm / 89.5 mm              | 86.0 x 85.9 |
| Valve Train                    | 16-Valve DOHC VTEC® |
| Redline | 6800 rpm |
| Compression Ratio  | 9.8: 1 |
| Fuel Injection       | Direct  |
| CARB Emissions Rating1            | LEV3-SULEV30 |
| Stabilizer Bar (front/rear)  | 27.2D x 5.0T / 16.5D |
| Steering Ratio                        | 11.82 |
| Turning Diameter, Curb-to-Curb       | 39.4 ft |
In-depth review of the 2019 Honda Accord Sport 2.0T Performance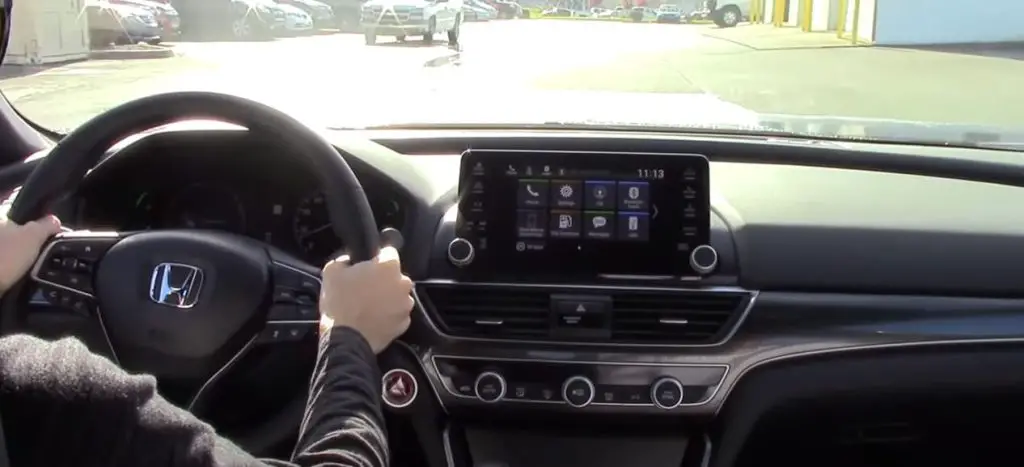 Let's talk about the 2019 Honda Accord Sport 2.0T Performance. Its power comes on smoothly, and it's an extremely quiet engine. You know a lot of model's base engines are rather loud. But it has a small basic engine.  
Suppose we go around the corner in this car. It feels buttoned down and tight and has a good sporty feel with no steering. It is on the lighter side, which is good for round-town driving and whatnot, but it feels fast responding and pairs nicely with the agile chassis. 
Furthermore, it can also be called a midsize sedan segment with its captivating performance. Its heart is a robust 2.0-liter turbocharged engine, churning 252 horsepower for potent acceleration while maintaining commendable fuel efficiency.
Its finely tuned suspension strikes the perfect balance between sportiness and comfort, which enhances steering precision and overall handling. One more amazing feature of this car is that drivers can choose between a six-speed manual or 10-speed automatic transmission, according to their preferences. 
The car's selectable driving modes, thoughtful noise insulation, and spacious interior collectively contribute to a versatile and enjoyable driving experience—the Accord Sport 2.0T appeals to those seeking performance and practicality in a midsize family sedan.
Interior and Exterior Review of the 2019 Honda Accord Sport 2.0T
Honda Accord Sport 2.0T model 2019 offers a blend of form and function in interior and exterior design. Let's go through it:
Interior Highlights: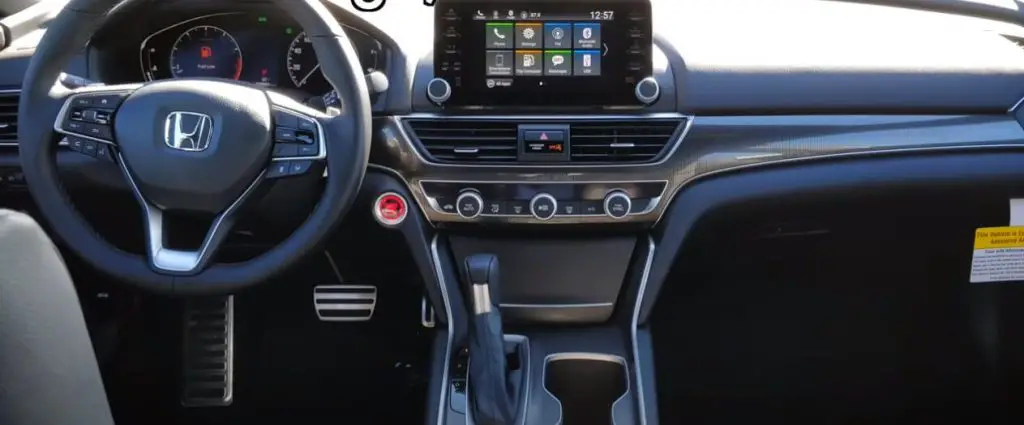 Cabin Space: It prioritizes comfort and practicality, which we all seek in long drives. Its legroom and headroom, especially in the rear, are designed to give a gesture of atmosphere for all passengers.
User-Friendly Layout: Their well-planned cabins are user-friendly and feature an ergonomic dashboard layout and intuitive controls. Furthermore, their key features are easily accessible and enhance the driving experience.
Premium Materials: Honda's commitment to premium quality is visible throughout the interior. High-quality materials, from soft-touch to upscale trim, elevate the overall sense of refinement and make it comfortable.
Comfort-supportive Seating: The seats are comfortable and supportive, ensuring an enjoyable ride for long distances. For colder seasons, they add an amazing feature of the inclusion of heated front seats, which give a touch of luxury and comfort.
Modern Infotainment: The Accord Sport 2.0T has an intuitive infotainment system with a comfortable and user-friendly touchscreen interface. Their smooth integration with Apple CarPlay and Android Auto further enhances convenience and connectivity.
Exterior Highlights: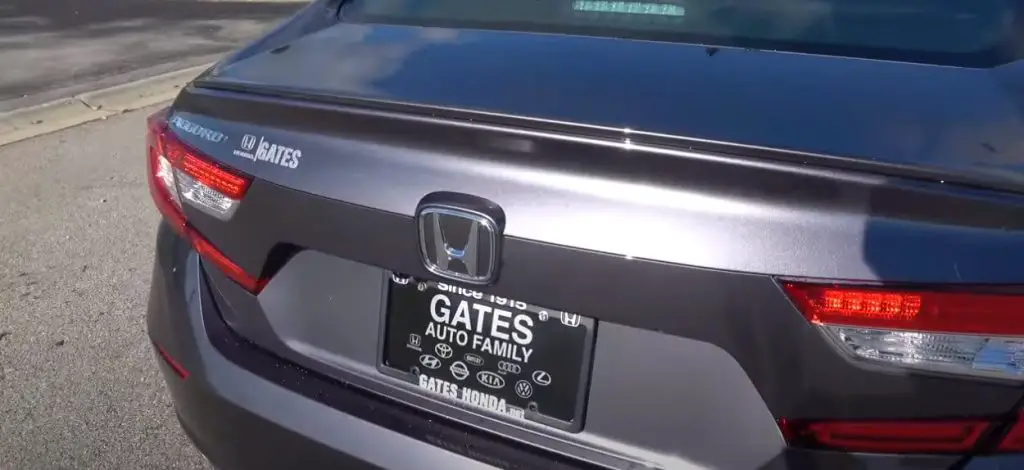 Modern and slick Contemporary Design: The 2019 Accord Sport 2.0T showcases a glossy and slick exterior design. Its aerodynamic contours and clean lines not only enhance visual appeal but also improve fuel efficiency.
Sporty Accents: The Sport trim level introduces sporty elements such as a dual exhaust finisher, distinctive decklid spoiler, and eye-catching 19-inch alloy wheels. These features impart a dynamic aura and an athletic to the car.
LED Lighting: It can be equipped with LED headlights and taillights and offers superior illumination for enhanced visibility while lending a modern and stylish appearance.
Versatile (Color Options): This car can come in many exterior color choices, allowing buyers to select a color that aligns with their preferences and personal style.
Practicality Preserved: The car remains highly practical despite its sporty aesthetics. Its four-door configuration ensures convenient access for both front and rear passengers. At the same time, its trunk provides ample storage capacity.
Safety Features and Ratings of the 2019 Honda Accord Sport 2.0T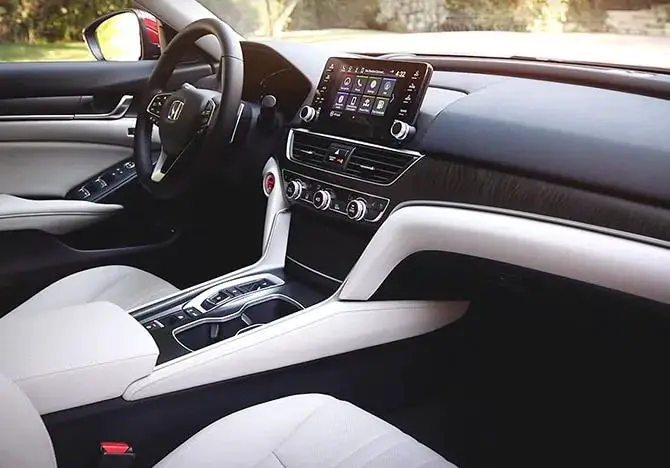 The 2019 Honda Accord Sport 2.0T combines performance and safety in a midsize sedan. Let's explore its key safety features and ratings.
Safety Features:
ACE Body Structure
Honda Sensing Suite
Vehicle Stability Assist (VSA)
Blind Spot Information System (BSI)
Multi-Angle Rearview Camera
Safety Ratings: Limited Rear Visibility Excellent Fuel Efficiency
In 2019, Accord got a 5-star safety rating in NHTSA's tests. 
Accord got the Top Safety Pick+ designation from the IIHS. 
Pros and Cons of the 2019 Honda Accord Sport 2.0T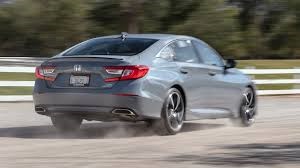 When thinking of purchasing a vehicle, it's essential to weigh the advantages and disadvantages to make an informed decision. Here's a comparison table highlighting the advantages and disadvantages of the 2019 Honda Accord Sport 2.0T:
| | |
| --- | --- |
|                    Pros |                     Cons |
| Powerful Engine                    | Firmer Ride |
| Honda Sensing Suite for Safety      | Average Trunk Space |
| Spacious and Comfortable Cabin     | Premium Fuel Recommended |
| Excellent Fuel Efficiency           | Limited Rear Visibility |
| Strong Resale Value                | Road Noise on Coarser Roads |
| User-Friendly Infotainment System   | Front-Wheel Drive Only (No AWD) |
Customer Reviews on the 2019 Honda Accord Sport 2.0T
2019 Honda Accord Sport 2.0 Customer reviews concern praise and minor concerns. Many highlight the 2.0-liter turbocharged engine's impressive power, smooth acceleration, and the model's commendable fuel efficiency. 
The spacious and comfortable cabin and the standard Honda Sensing Suite, including adaptive cruise control and collision mitigation, received positive feedback. 
My Opinion: Is the 2019 Honda Accord Sport 2.0T Worth It?
In conclusion, purchasing a 2019 Honda Accord Sport 2.0T is pro-choice, but you also have to look at your special needs and preferences for which you are looking for. This ideal car is an amazing package with a potent engine, comfortable interior, commendable fuel efficiency, and advanced safety features, which build Honda's well-established reputation for strong resale value and reliability. 
Furthermore, it would help if you looked for factors like limited rear visibility, a firmer ride, and the recommendation for premium fuel. Additionally, some factors can impact your decision: road noise, trunk space, and the absence of an all-wheel-drive option. If you want to make an informed choice, take a test drive and evaluate if the Accord Sport 2.0T aligns with your requirements. If yes, then go ahead with it.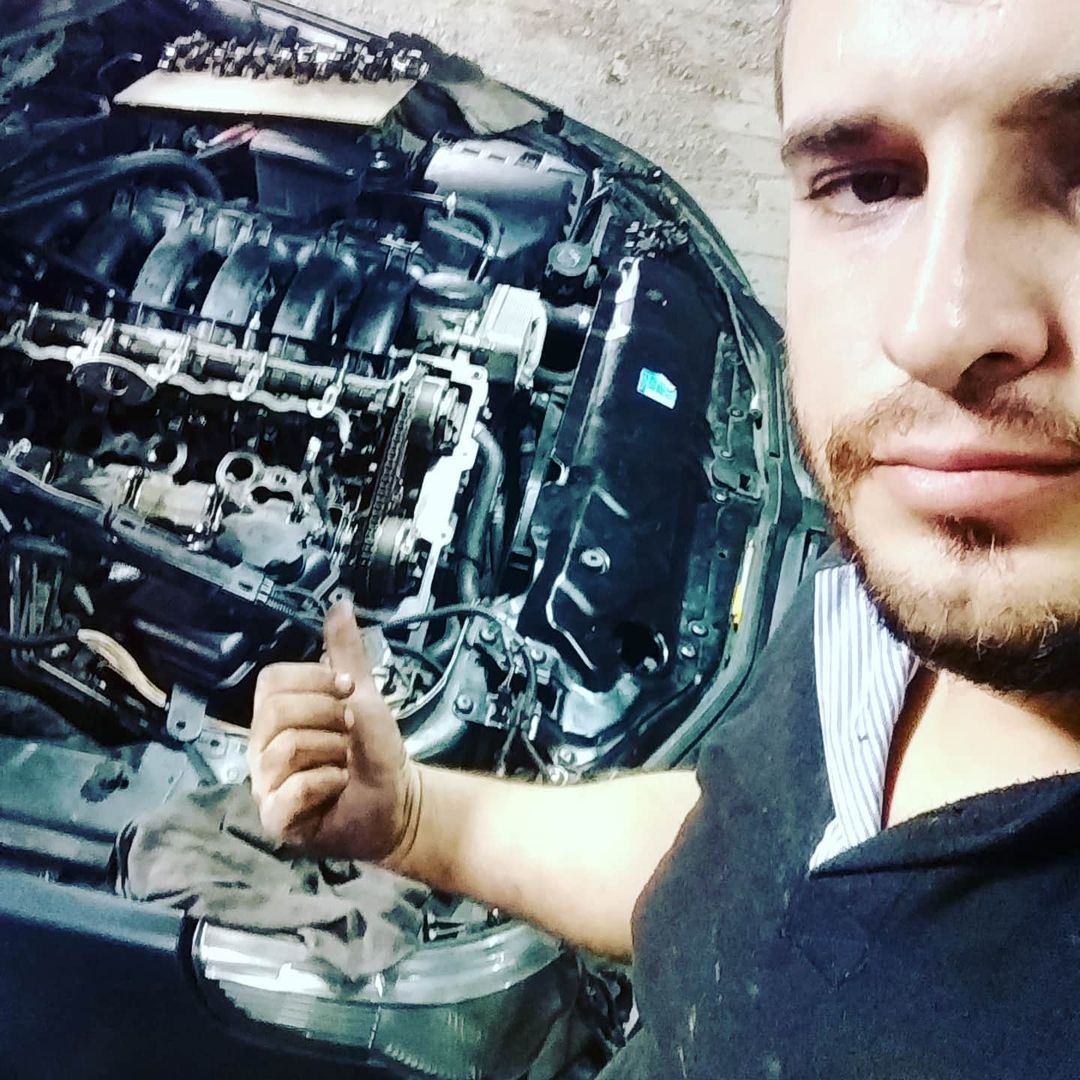 I am an Automotive specialist. I graduated from Michigan with Bachelor in Automotive Engineering and Management. Also, I hold degrees in Electrical and Automation Engineering (BEng), Automatic and Industrial Electronic Engineering, and Automotive Technology. I have worked at General Motors Company for over five years as the Marketing Operations Production Coordinator. Now, I own my garage in Miami, Florida. I love cars and love to share everything about them with my readers. I am the founder of the Automotiveex blog, where I share everything about automotive, like car news, car mechanical issues, and anything else that comes up in my blog posts.