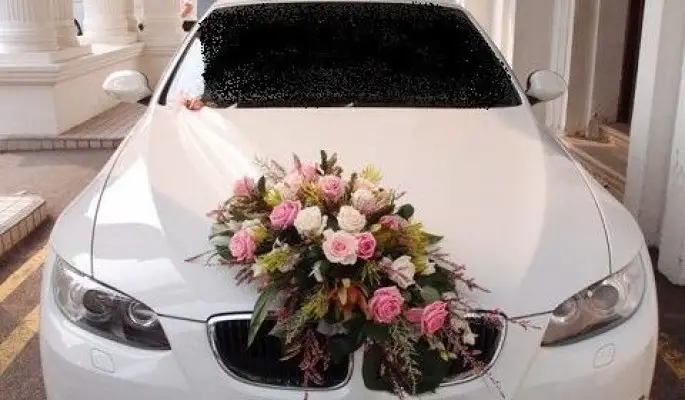 Weddings are wonderful, but they're even better when everyone gets to share on one of their most joyous occasions. There's a good probability that if you've ever attended one of these events, you've seen a decorated car at least once. One coolest and most entertaining thing you can do to express your appreciation for the special day is to decorate your car like people have a tradition of doing when they arrive for a wedding event. This article provides helpful insight into how to make a wedding car look special for the big day.
How to Decorate a Car for a Wedding
Here are the steps to decorate a car for a wedding
Select the car for decoration
Create a design plan
Choose the decorations
Assess the car's size and shape
Prepare the car for decoration
Gather supplies such as fabric, ribbons, streamers, balloons, and signs
Decorate the car with the chosen materials
Attach the decorations securely
Clean the car thoroughly
Secure the decorations to the car
Decorate the car with fabric, ribbons, and streamers
Add balloons and signs to the car
Adding lighting and accessories
Secure the decorations with tape or glue
Test the decorations for security
Take photos of the car before and after the wedding
Have fun and enjoy the decorated car!
Select the car for decoration.
There are a few elements to take into consideration while choosing a vehicle for your wedding's decor: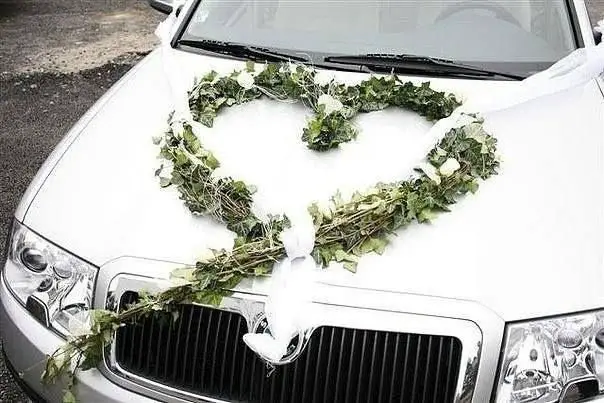 Size and Capacity – Verify the vehicle's size and capacity to accommodate the wedding party, including the bride and groom, bridesmaids, groomsmen, and any other VIPs riding along.
Style: Consider your wedding's general pattern and appearance. A sleek, modern vehicle could be more appropriate for a social event, while a vintage car might be ideal for a traditional, classic wedding.
Status – Confirm that the vehicle is in good shape and properly maintained. You don't want your big day to be ruined by technical issues.
Price – When choosing a vehicle, consider your budget. Several rental firms provide various car models at various pricing points.
Create a design plan.
Create a design plan by following these steps to decorate a car for a wedding: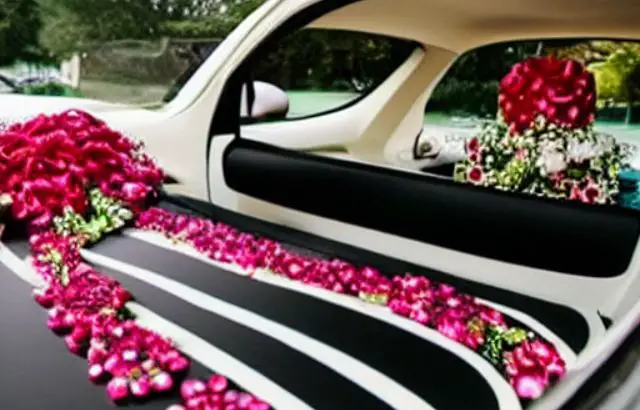 Select the wedding's style and color palette. You may choose the appropriate automobile decorations with the aid of this.
Compile your resources. Ribbons, flowers, streamers, and other ornamental goods are things you'll need.
Create a layout. Consider where you want to place each ornament and how it will appear from various angles.
Draw an image of the car's interior using a computer program or a paper sketch of your concept.
Create a list of all the required supplies, including their sizes and types.
Choose the decorations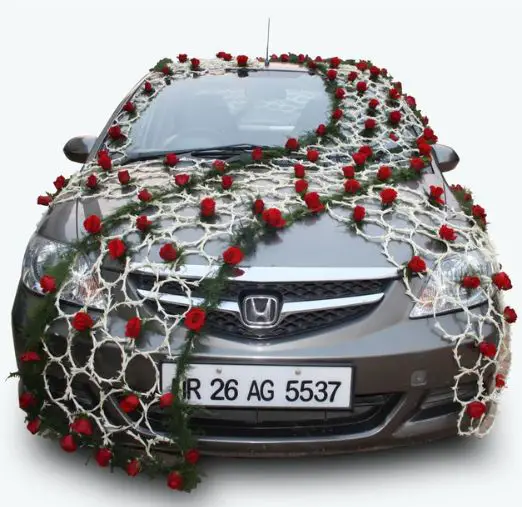 Select decorations that blend in with the event's overall design. Ensure the decorations are properly fixed so they do not come loose while the car is driving and do not hinder the driver's or passenger's vision.
Consider the brand and type of vehicle, as well as its overall appearance, while choosing decorations. Select wedding decorations that reflect your style and make you feel special.
Access the car's size and shape.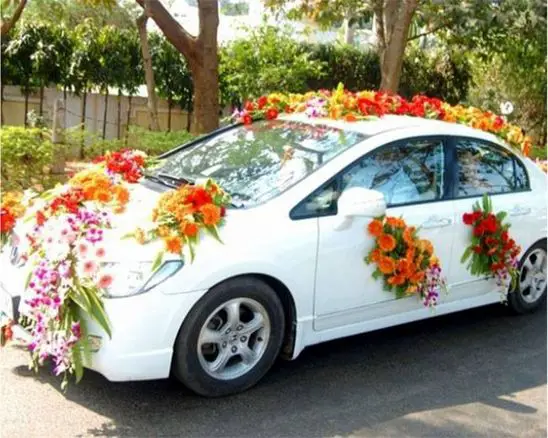 Measure the car's length, breadth, and height with tape. This will make it easier for you to decide what size decor would work in your available area. Observe the car's curves and shapes from all sides to gain a sense of the car's curves and shapes. This will make it easier to picture how and where the decorations will fit best on the vehicle.
Ensure the decorations are properly fixed so they do not come loose while the car is driving and do not hinder the driver's or passenger's vision.
Take photos of the car before and after the wedding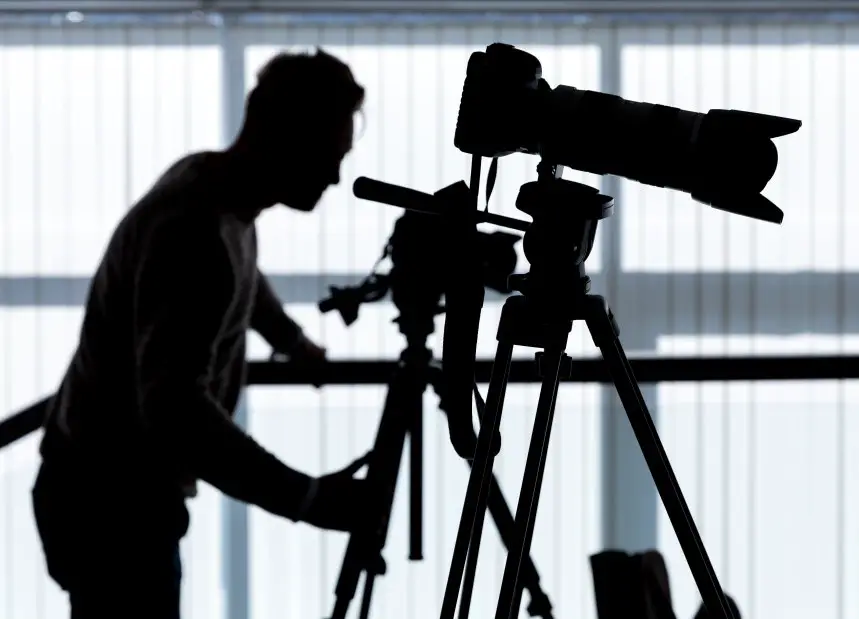 Remember to get vehicle images from several perspectives, including the front, rear, sides, and top. You can use this as a guide when organizing your decorations. You may capture this priceless moment on camera to save it in your memory.
Gather supplies such as fabric, ribbons, streamers, balloons, and signs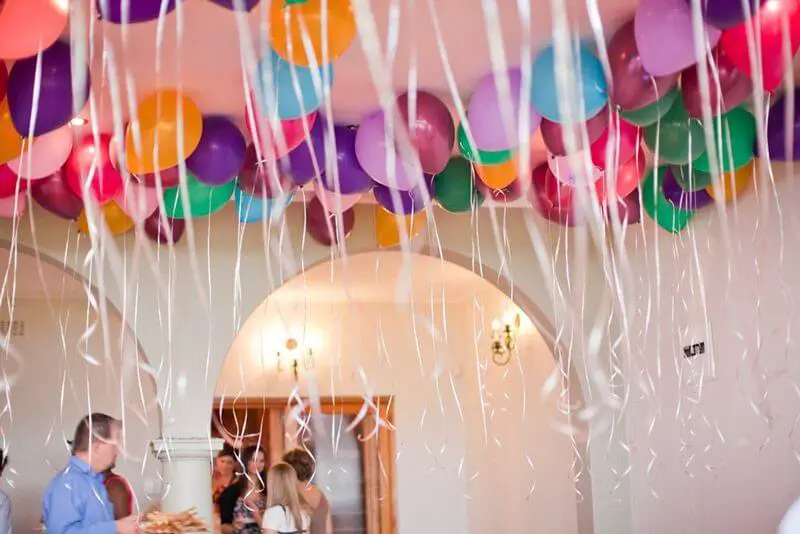 List all the supplies you will require. Materials like cloth, ribbons, streamers, balloons, and placards are frequently used to decorate wedding cars. To get the required goods, shop online or go to a craft or party supply store.
Decorate the car with fabric, ribbons, and streamers.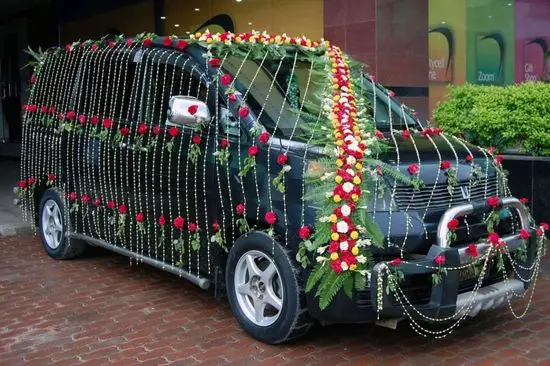 You may also use items you already have around the house, such as vases or pots, or materials you can locate, like cloth or ribbon from a former occasion. Consider its size and shape when decorating the vehicle with cloth and garlands. Make sure that any decorations are fastened so that they do not come off while driving and do not hinder the driver's or other passengers' vision.
Clean the car thoroughly.

Clean off any dirt or debris from the car's exterior with the hose. Start at the top of the car's exterior and work your way down, scrubbing with the sponge and a pail of soapy water. To prevent leaving a residue, rinse the soap off as you go. To dry the vehicle, use a microfiber towel or chamois. Dry it well to prevent water stains. Use a glass cleaner and a microfiber cloth to clean the windows inside and outside.
Add balloons and signs to the car.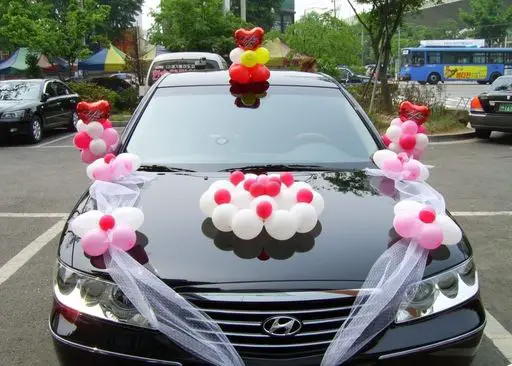 Use a balloon blower or your breath to fill the balloons properly. Use twine or ribbon for the balloons to be attached to the car's exterior. The car's sides, back bumper, or front bumper are all suitable locations for them. Stick the signage to the car using masking tape or double-sided tape. The windows, doors, or trunk may all accommodate them.
Test the decorations for Security.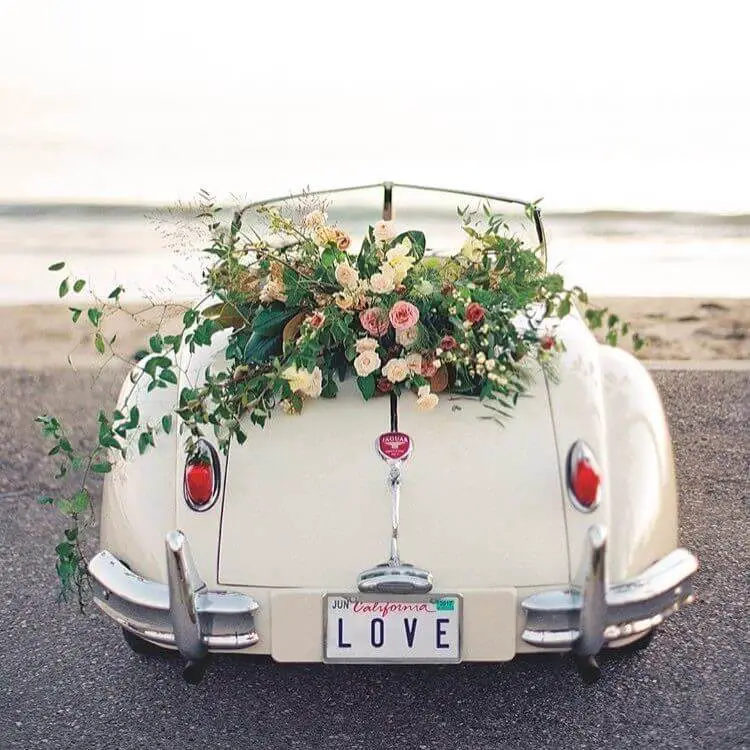 Take the vehicle for a test drive to observe how the balloons and moving banners appear. For the big day, make any required alterations.
Have fun and enjoy the decorated car.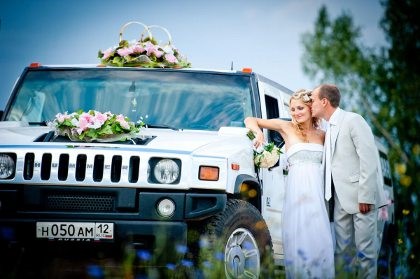 You can decorate the vehicle more quickly with a few additional hands if you enlist the assistance of friends or family. Decorating the car may be enjoyable.
Consider window decorations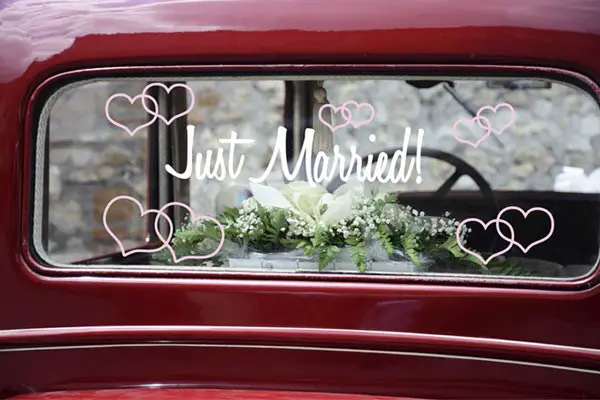 Window vinyl stickers are developed specifically for people with mild tastes who wish to make their vehicles look minimalist. These are self-adhesive and often constructed of vinyl that is waterproof. They are conveniently offered in both physical and online businesses. Naturally, you can also ask them to weigh it.
Pick flowers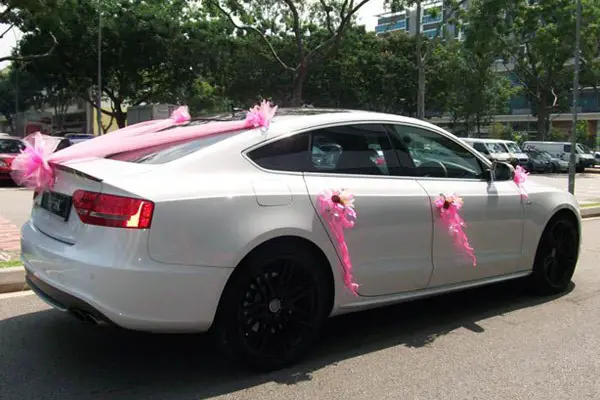 Satin bows are ideal for creating a refined and attractive appearance. You may tie them anyplace in your car or make them into tiny ribbons and scatter them around for a chic appearance. You could even glue a miniature flower to add a little extra flair to the ribbon. For best results, always get broad tapes.
Use banners and posters.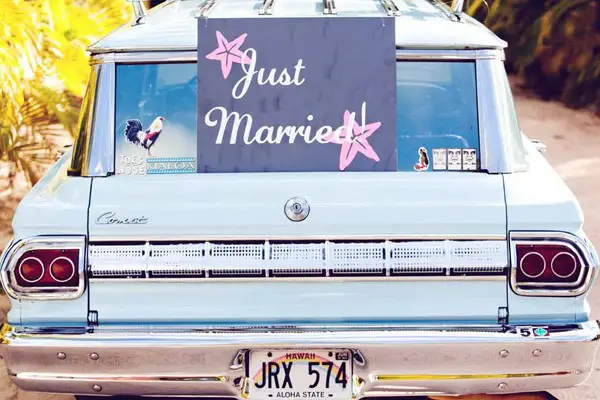 You don't need to attach a blank 8.5 x 11-inch sheet of paper bearing the names of the couples tying the knot. It. Pick up the "Got Married" banner or customize it with your and your spouse's names.
Make it a nice occasion.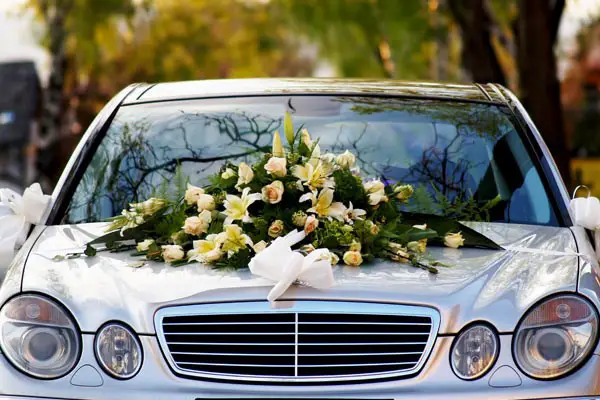 At some weddings, it's impossible to avoid flowers. And decorating the wedding vehicle with it is a fantastic idea. To avoid overfilling your car, though, you must be careful. Flower arrangements placed on the hood or back of the car are one of the nicest methods to beautify the wedding vehicle. By artistically arranging one flower, you can fill the whole of your car.
Maintain the wedding's style.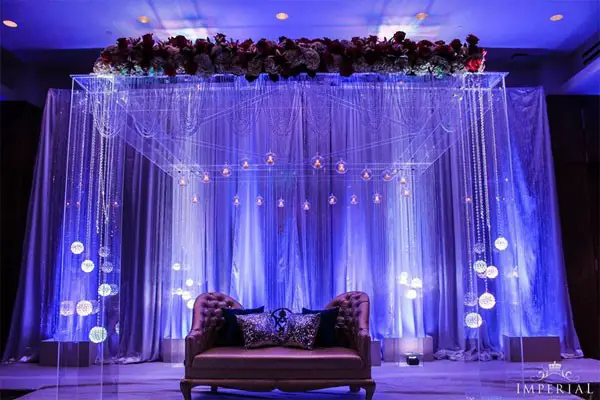 You may always play it safe and dress your car up with a touch of elegance if you're having difficulty choosing the color of the flowers or ribbons. Choose roses, streamers, or a combination of the elements described above in colors that match the design of your wedding decor; for instance, if purple is the color scheme.
Tips on Personalizing Your Wedding Vehicle
The mode of transportation looks lovely with wedding vehicle décor.
The ribbons are primarily used to decorate wedding vehicles, and the white ones are used for decoration. You can decorate your wedding car yourself if you follow these tips. It looks fashionable and is also reasonably priced. Such ribbons can be purchased, and your friends or family can help you design your car with them. You can research the idea on the internet.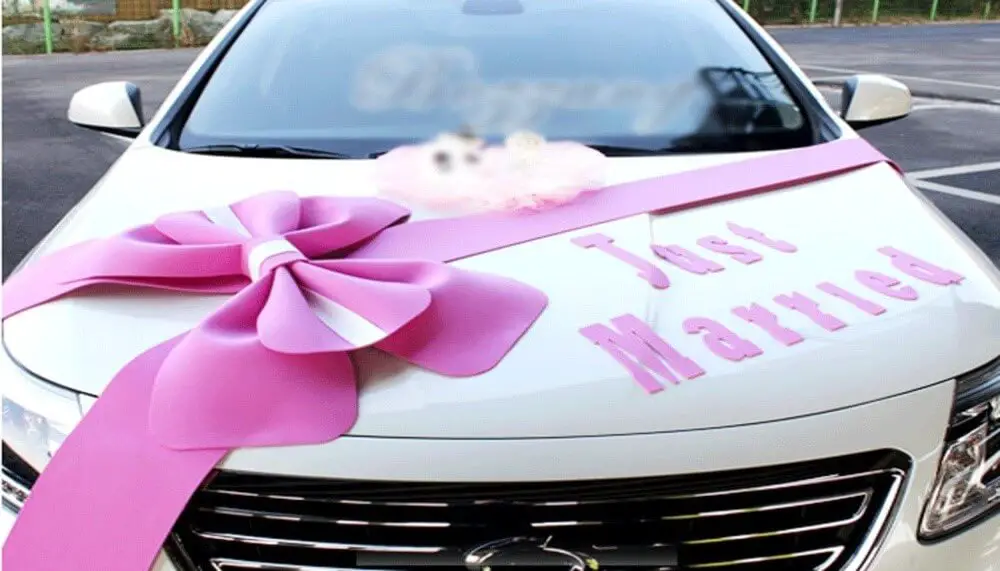 Another traditional and significantly less expensive option is to decorate the wedding cars with flowers. You may spruce up your car with floral arrangements and put these on over the handles. You could hang a sizable bouquet or wreath from the hood.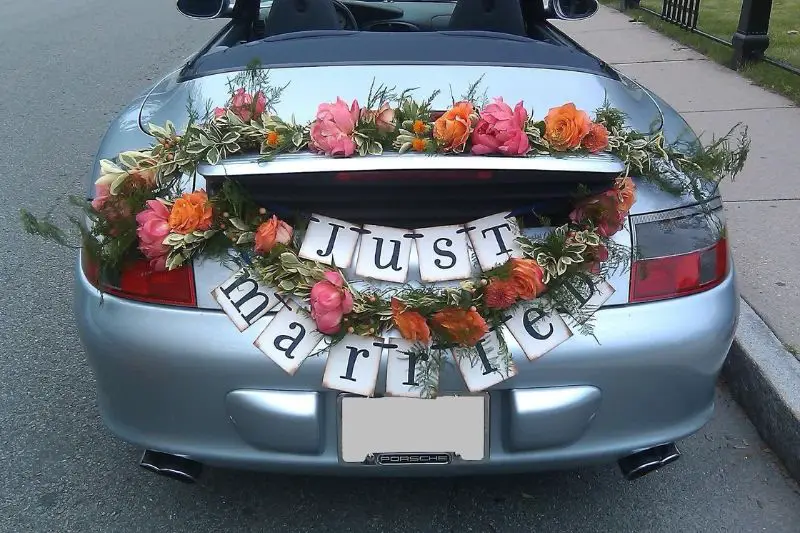 Additionally, you can add flowery wreaths or stripes to the car's top. Flowers can be placed in the back of a bouquet. A variety of accessories and centerpieces are also available for selection. For instance, you might use figurines of a cupid or a dove and attach them to the bonnet or install thermo-molded decorations on top of the vehicle.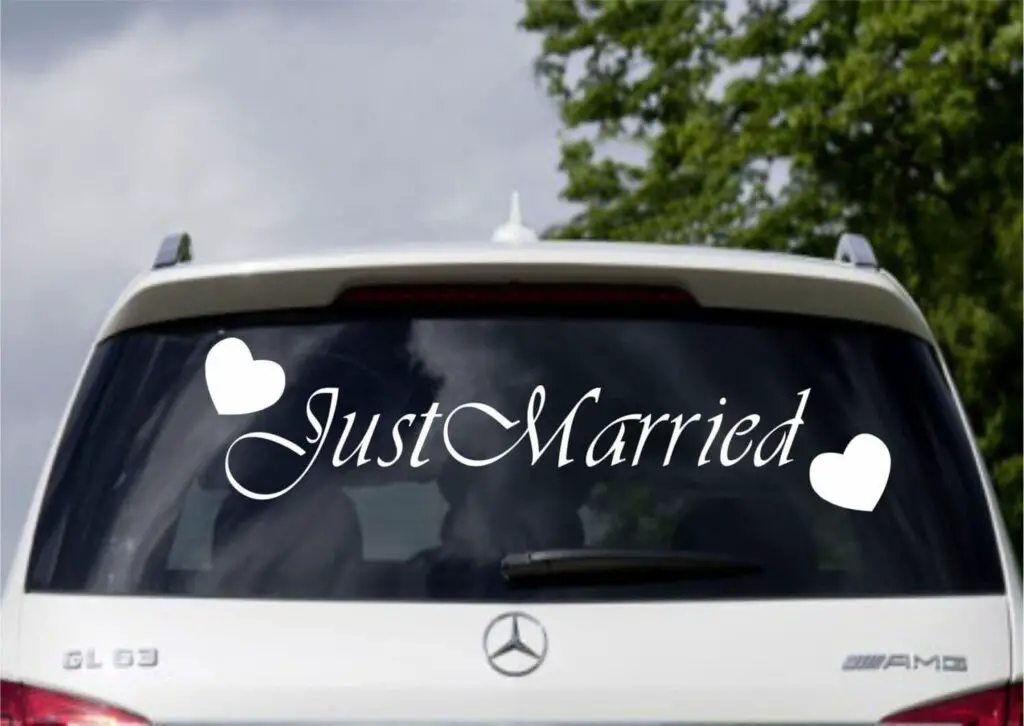 Using custom-made window decals or stickers designed for couples. These are typically constructed of waterproof vinyl and include glue. They can be discovered online or at nearby businesses.
Use a banner or poster. You can purchase magnetic signage or banners that adhere to the exterior of your car. You can choose "Newly Married" signs or make them your own. Mostly on the back of your vehicle, you can also display posters.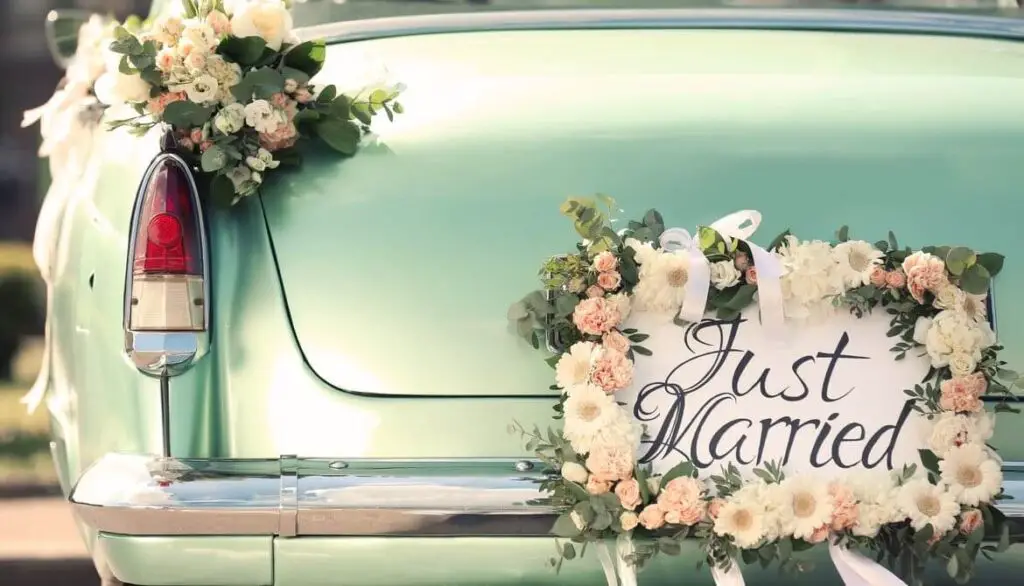 You also can ask your relatives and friends for any extra decorations they may have. You must, however, keep in mind that these suit your wedding's theme.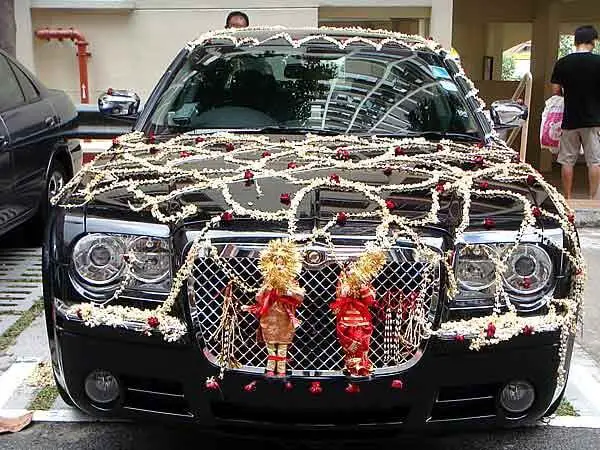 Frequently Asked Questions
How are wedding car bow ties made?
Cut pieces of ribbon 2 to 3 inches wide into lengths ranging from 3 to 8 feet long for car window decorations. A 6-inch section of the tape should protrude toward the vehicle as you place them over the edge of the open windows. Windows should be rolled up so that the tape can be secured by wrapping it around the closed window.
Is there any party car decorating ideas?
Celebrate a birthday with balloons, vapors, and banners. You can add your car to the celebration of someone's special day when you drive to wish them a happy birthday. Make her birthday memorable by going out with balloons, streamers, window paint, and an amusing banner.
How are some cars decorated?
For a beautiful and classic appearance, dress up the trunk of your vehicle with flower ornaments or lace materials. Pair a laser-cut gold board with eucalyptus tassels or streamers for a casual look. Wreaths, vibrant roses, and bows are enjoyable and give your car a colorful appearance.
Which car Colour is best for a wedding?
There is no definitive "best" color for a wedding car, as it largely depends on personal preferences and the overall theme of the wedding. Some are White, Black, Silver, or Gray: Vintage or Pastel Colors.
Expert Thoughts
An essential consideration is organizing your travel arrangements well before your wedding. If there are many places, you must also consider how you will go from one to the next. Some people prefer to drive a classic car, while others do not. You must reserve it far in advance, whatever it may be. If you drive your vehicle, kindly reserve it for cleaning before the event. 
Resources: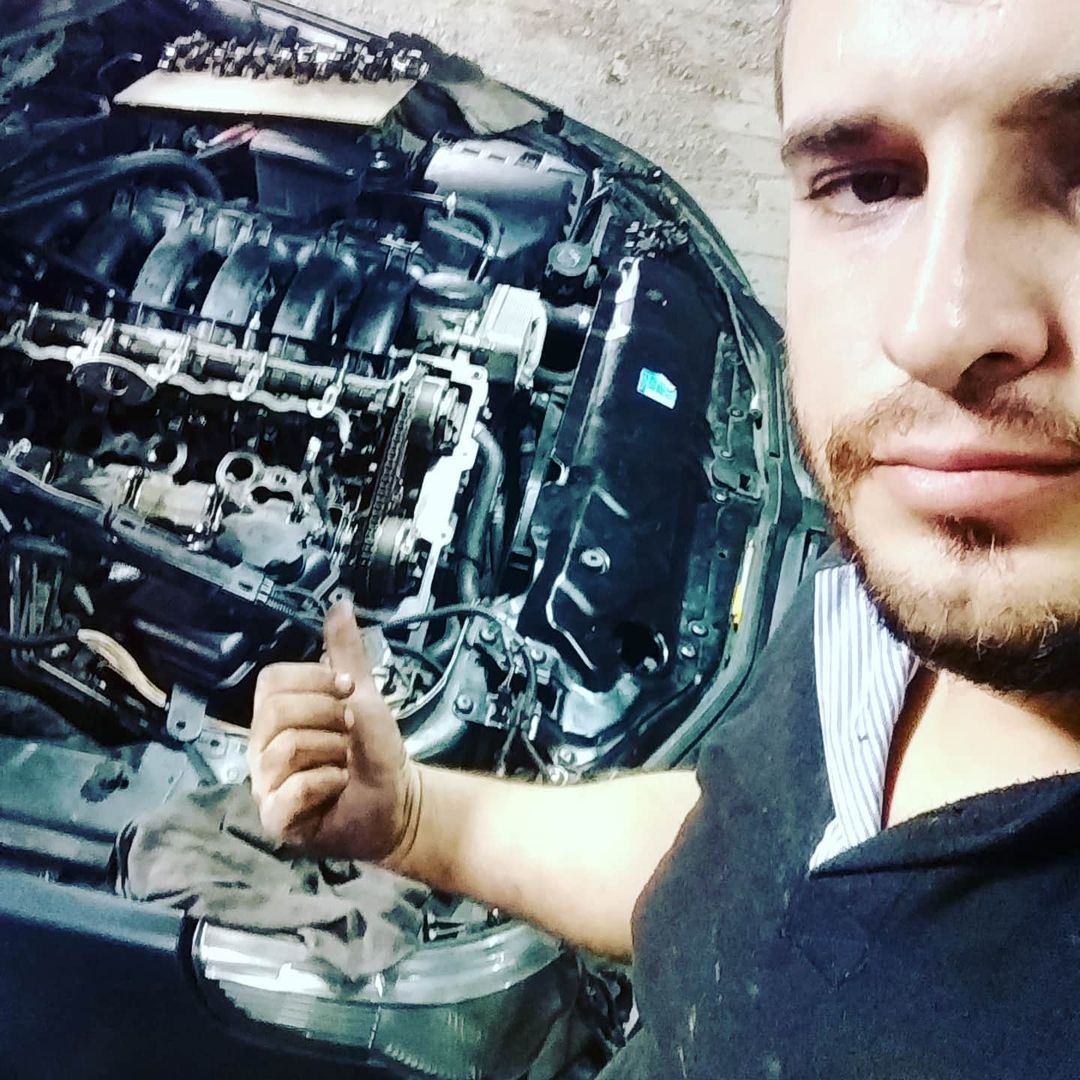 I am an Automotive specialist. I graduated from Michigan with Bachelor in Automotive Engineering and Management. Also, I hold degrees in Electrical and Automation Engineering (BEng), Automatic and Industrial Electronic Engineering, and Automotive Technology. I have worked at General Motors Company for over five years as the Marketing Operations Production Coordinator. Now, I own my garage in Miami, Florida. I love cars and love to share everything about them with my readers. I am the founder of the Automotiveex blog, where I share everything about automotive, like car news, car mechanical issues, and anything else that comes up in my blog posts.