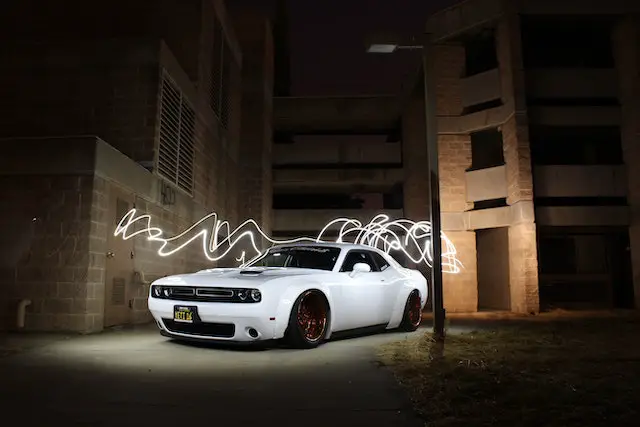 Everyone faces a different occasion with relatives, friends, or family. They can't go with a party surprise, but they can decorate the car. It's an affordable and easy method to follow up.
Decorating a car can be done within an hour.
Decorating your car for any occasion without much effort or expense is possible. There are only a few things you need to use to achieve this, and you don't have to struggle to do it. It can be a wedding anniversary, birthday, graduation party, Christmas, etc.
Now I will discuss strategies and points you must follow while decorating a car.
Gather inspiration – Explore different types of car decorations online and in magazines.
Determine what decorations you want to use – Consider stickers, window decals, magnets, and other items.
Consider the size of your car – Decide how much space is available for decorations.
Select the materials – Choose the type of material you want to use for your car decorations.
Clean the car – Clean the car before starting the decoration process.
Shopping for materials – Consider the type of decorations you would like to use and purchase the necessary materials.
Decorating the exterior – Discuss what decorations can be used for the car's exterior.
Decorating the interior – Explore the different possibilities for decorating your car's interior.
Adding personalized touches – Explain how to add a personal touch to your car decorations.
Select a location for the decorations – Consider the size and placement of the decorations.
Protect the decorations – Use a sealant to protect the decorations from the elements.
Maintain the decorations – Regularly clean and inspect them to ensure they are in good condition.
Take pride in your car – Enjoy the results of your hard work and show it off to your friends and family.
Show off your newly decorated car!
How to Decorate your Car
Gather inspiration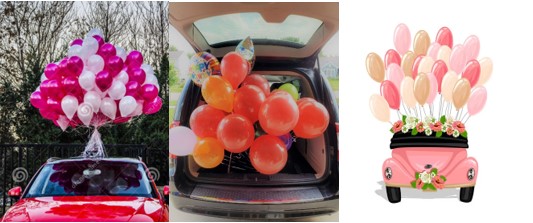 After deciding to decorate your car, the next step you have to take is to make a mindset about which type of decoration you want to have. You can google it, or you can use Pinterest. Pinterest is a website providing decoration ideas.
Determine what type of decorations you want to use

After selecting a decoration theme. Now, divert your mindset towards which type of suppliers you must use.
There are many things in decoration like sticky stickers, magnet stickers, balloons, flowers, etc., like in above mention pics.
Choose a theme that you can easily buy and manage.
Consider the size of your car.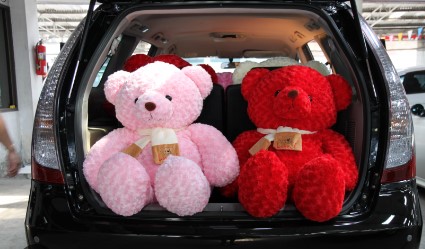 You have to check your availability according to your decided theme. If you want to keep 5 feet long teddy in your surprise, then it will occupy all the space, and there will be no space for further decoration, as shown in the above picture.
Thus, keep the available inside area in your mind and then, according to it, choose a theme. Overwise, it will look like it is overflooded. 
Select the materials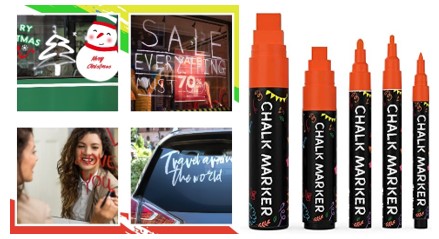 Car decorations are of different types. They can be sticky or non-sticky. So, you have to decide which type you have to go with.
Decoration materials are:
Car decorating paint. 
Car window decorating markers. 
Streamers and banners.
Flowers.
Noisemakers. 
Colored powder.
Miscellaneous exterior decorations.
Car Interior Decoration Ideas.
These are some decoration materials now it's up to you what to choose.
Clean the car

After grabbing decoration material not get started on nasty. Start cleaning your car properly. You should take a round of your car and remove every unwanted material.
Use a brush on corners to get rid of dust particles. Wet a cloth and gradually move it on windows to clean them.
You can use a hand vacuum to extract dust from seats.
Shopping for materials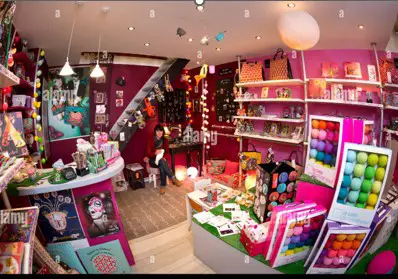 Now, write everything on white paper and then grab your wallet. Start heading toward the nearest shop and buy all the decoration materials.
Buy material according to your car decoration theme.
Select a location for the decorations.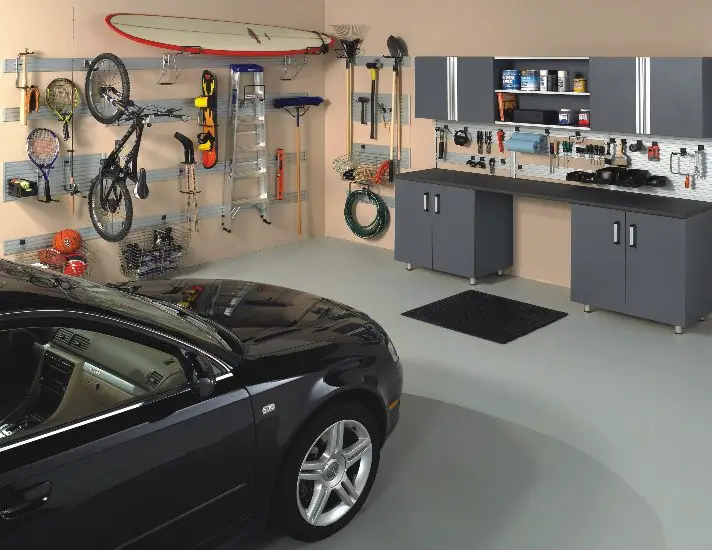 Once you return from shopping, take your car to the place where no one else can come—especially a person for whom you are decorating.
If you have a garage, then continue there. Otherwise, you can take your car to the park or any free area where you will be free and comfortable decorating your car.
Decorating the exterior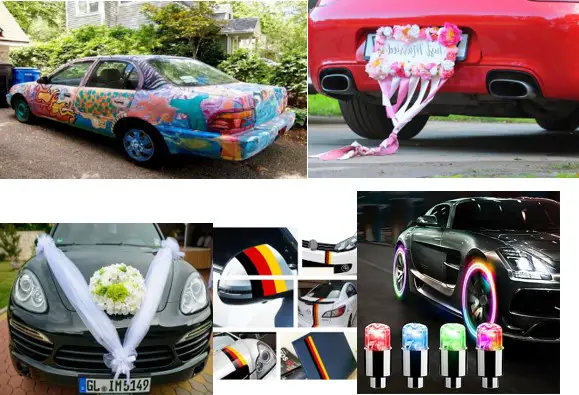 As shown in the above pictures, decorating your car exterior is easy—all you have to have been material for decorating. There are many ways to decorate using different materials. 
As such:
Racing stripes and car wraps. 
Roof wraps. 
New stem valve caps. 
Wind deflectors. 
Tire cover.
Vanity plates. 
Wing mirror wraps. 
Truck bed caps.
Paint your car.
Hang ribbons.
Put multiple stickers.
Wrap your tire with LED nights.
Decorating the interior

After decorating the exterior car, it's time to decorate the interior. Many decorating materials enhance the look of the car's interior side. 
Headrest collars.
Car mats.
Air freshener.
Car coasters.
Keychains.
Glitter tumbler.
Seat covers.
LED lights.
Decorating material.
You can choose and go with any of them.
Protect the decorations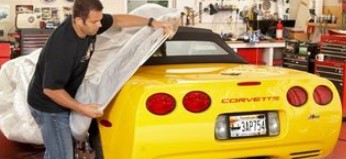 Suppose you have decorated your car early than 1 night or day. Then, don't get worried. There is a solution take your car into the garage and seal it out. You can also cover it, as shown in the above picture. Seal your decoration carefully so no one can get distracted them.
If you decorated it many days before the event, try to maintain the decorations.
You should regularly clean and inspect the decorations to ensure they are in good condition. 
But always note that balloons don't last for longer. So, use it half an hour before the event.
Show off your newly decorated car!
When an event is live, take your decorated car from a garage in slow motion. Trust me. It will hang everyone. 
Take a round of your colony and show off to your friends. Show them your hard work and love them.
Expert Opinion
You can decorate your car in 1 hour according to any occasion. No matter to whom you are decorating a car, they will be glad to see it. 
You must follow the abovementioned strategies and points to arrange a car surprise.
Start with a theme, then select a color. After that, get the material for it. Start decorating in a private area. Cover up your decoration.
After that, when the event date hits a calendar. Surprise your man with it.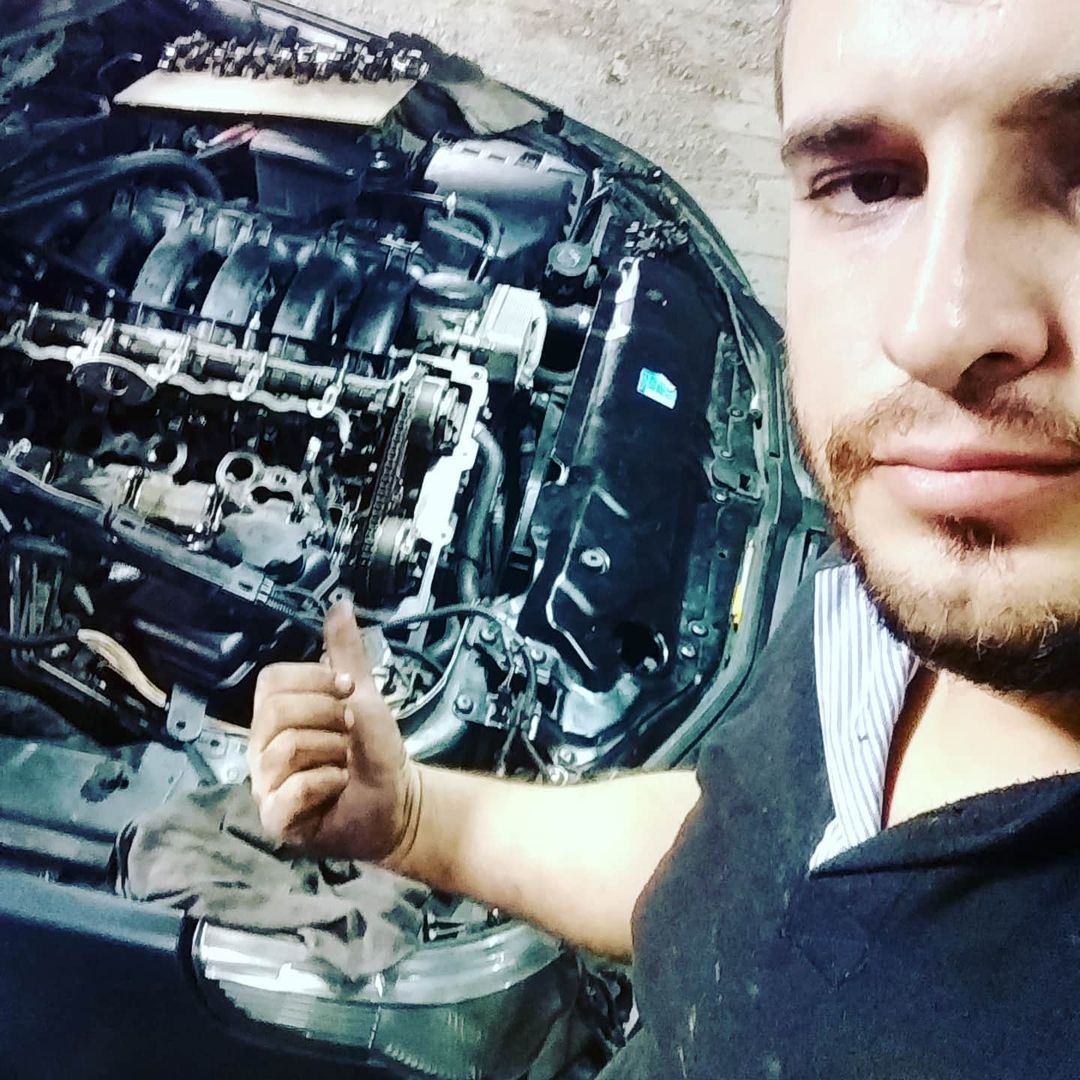 I am an Automotive specialist. I graduated from Michigan with Bachelor in Automotive Engineering and Management. Also, I hold degrees in Electrical and Automation Engineering (BEng), Automatic and Industrial Electronic Engineering, and Automotive Technology. I have worked at General Motors Company for over five years as the Marketing Operations Production Coordinator. Now, I own my garage in Miami, Florida. I love cars and love to share everything about them with my readers. I am the founder of the Automotiveex blog, where I share everything about automotive, like car news, car mechanical issues, and anything else that comes up in my blog posts.