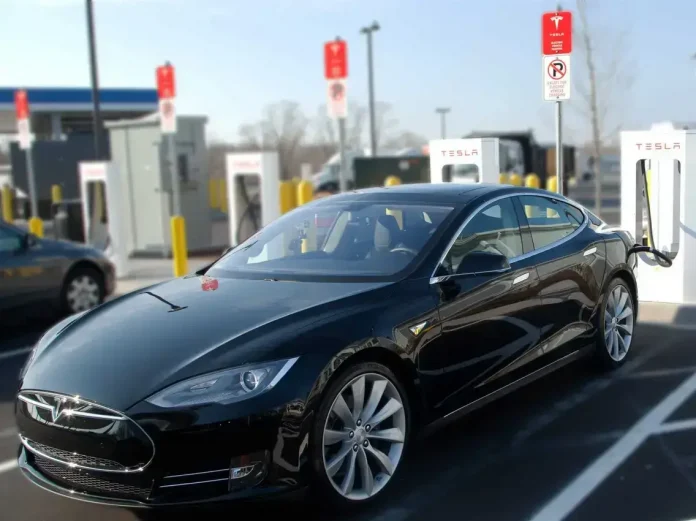 Is Tesla your ideal corporation? Tesla does not hire anyone on the spot. The multibillion-dollar corporation Tesla has a wide range of appealing employment options. There is fierce rivalry for jobs in electric vehicle manufacturing because of its reputation. If you are considering applying to Tesla, you have arrived at the appropriate location but are unsure where to begin. This post will show you how to get a job at Tesla. Come along!
How to Get a Job at Tesla?
There are several unique career options at Tesla. High school graduation may get required for some of these positions. Others, however, call for a master's degree and years of work experience. In each instance, the organization is committed to selecting the top candidates in the sector.
For example, you must enroll in the required machine learning courses to become a Tesla machine learning engineer. You may enroll in a university program to study automotive engineering if you want to work in the company's vehicle design division.
Following that, make sure your CV highlights your most potent abilities. All you have to do is go through the recruiting procedure if you are successful in this respect. The steps listed below will be of great help to you:
Step 1: Visit the Tesla careers website at https://www.tesla.com/careers.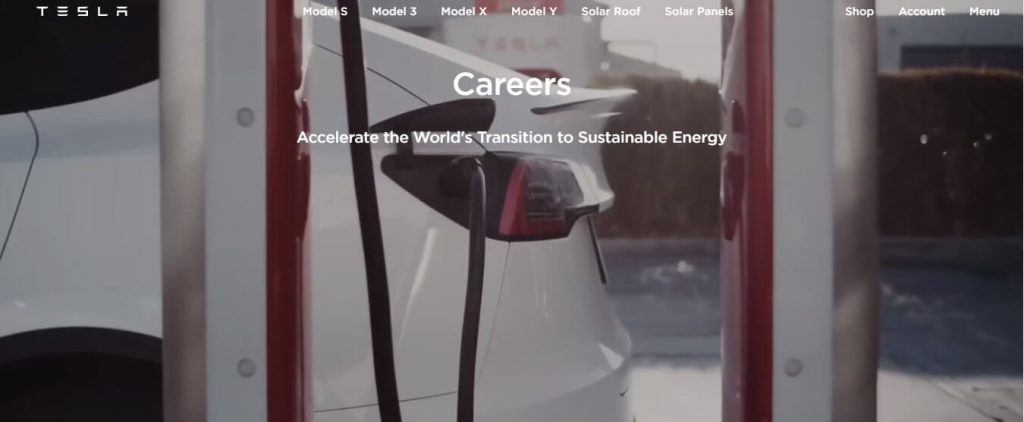 Step 2: Scroll to the bottom of the page and click on "view jobs"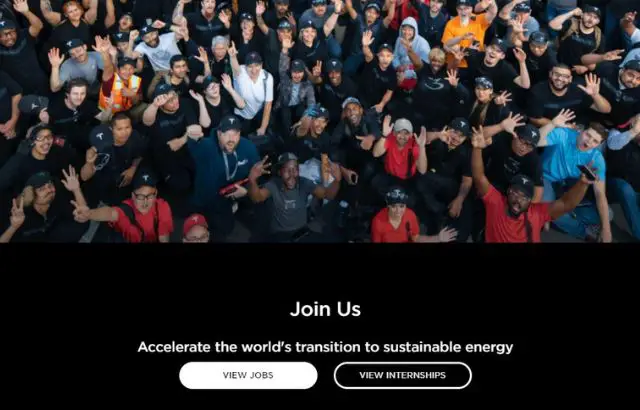 Step 3: This will take you to a place where you can see diverse job openings.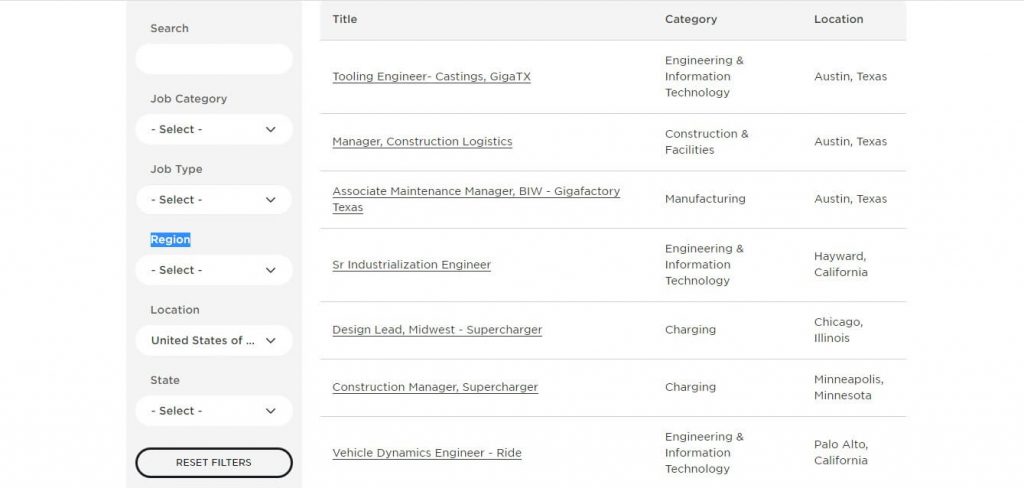 You can also filter the open positions. This can be by area or location in which you wish to work, the kind of work you want to undertake, or a career category is all options. Additionally, you may specify if full-time or part-time employment interests you.
Check to see whether you meet the requirements for the chosen position. The chosen job offer's job description will always include the prerequisites.
Step 4: Click the "apply button." You may go to the next step of the application procedure by doing this.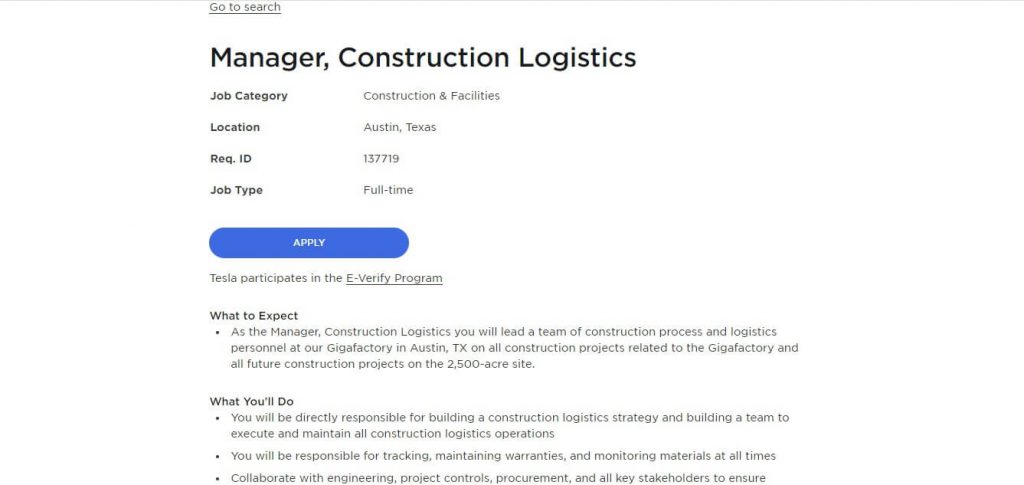 Step 5: Enter your personal information and a copy of your résumé. Finally, submit when done. The absence of the cover letter is excellent news!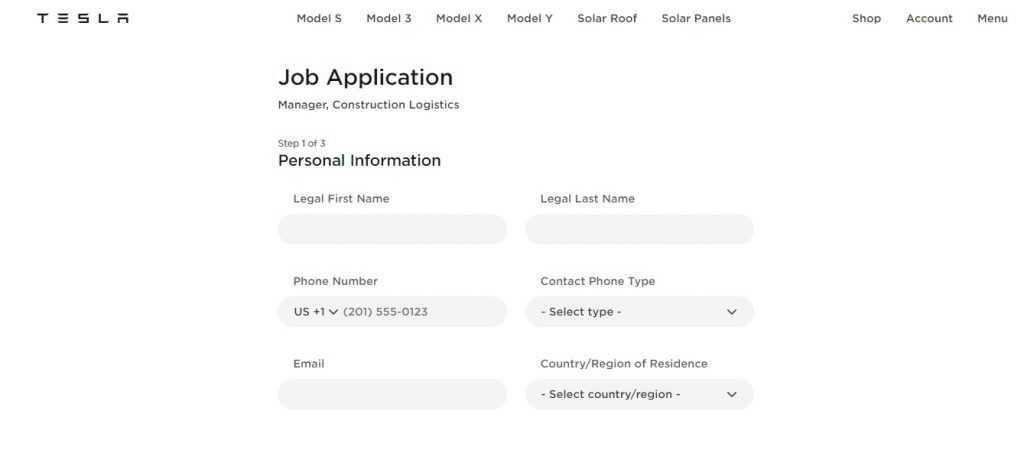 You may anticipate participating in the interview round of the selection procedure if your registration is accepted.
How to Get a Job at Tesla: More tips
The following tips will also aid you in getting a job at Tesla:
1. Adhere to Tesla's vision
Tesla is a firm with a clear goal. People who fervently support the work of the firm get drawn to it. Why Tesla? It is one of the most often asked interview questions. Make sure you have a concise response to this question ready in advance.
The company's goal is to hasten the global switch to renewable energy. What about you? That seems good. Find out what it means to you personally and if your values align with it.
2. Accept the strain
Keep in mind that Tesla grew up in the strict work ethic of Silicon Valley. The company's culture has gotten compared to a never-ending surge of adrenaline that may quickly result in burnout. But if you naturally do well under pressure, this is your place.
Elon Musk, the CEO of Tesla, is renowned for creating very ambitious timetables, presuming there is no upper limit to his employees' output. He is a motivating manager who will push his team for a time while infusing them with an infectious enthusiasm for their task.
3. Be prepared to showcase your abilities.
Tesla must examine your mental processes. Every applicant should be prepared to provide a concrete example of their competence. You can be given a coding assignment or asked to put something together on the spot.
The organization claims to have no pre-determined method for selecting its employees, but they only accept the best. Tesla often assesses applicants for three qualities: creativity, drive, and teamwork.
A new hire at Tesla must be eager to try things out, put them to the test, and pick up new skills. Failure is not a huge issue, but once it occurs, start again and be adaptable.
4. Demonstrate how you can adjust the game.
Consider the future and concentrate on your most proud achievement. One of the most crucial interview questions for Tesla, so takes your time. Don't undervalue this process step if you're attempting to find out how to acquire a job with Tesla.
It would help to start by picking a circumstance where you significantly influenced the result. Divide it into the following sections to provide a clear response:
What was the issue?
What was the answer?
How did you resolve it?
What came out of it?
You will be able to tell whether you were a true game changer or simply a spectator by structuring your answer in this manner.
5. Diversity is a strength
The overwhelming quantity of applications need not spell the end of the contest. The organization claims to promote diversity and value several different types of thought.
So, if your background is unconventional, don't give up. In the end, it's possible that your capacity for a problem-solving and creative approach to issues can help you get employment.
6. Demonstrate your ability
You don't have to be a recent Ivy League graduate to apply. Tesla is more interested in your potential than your academic credentials. What does it signify, though?
The sky is the only limit for Tesla as a business. You must maintain an open mind and search for routes where none exist if you want to carry out ambitious ambitions.
So don't worry if you recently graduated from college. Pay special attention to your resume's extra-curricular section. Giving them a peek at your interests outside of work can reveal a lot about your true self.
7. Taking initiative matters
Autonomy and self-motivation are two fundamental components of working at Tesla. You are expected to take the initiative as an employee rather than wait for leadership to specify tasks.
Here's only one illustration. Tesla established their Supercharger network in advance while the concept of creating charging networks was still in its infancy. The message was unmistakable: people, the future is today!
This has also been highlighted in the infographics below.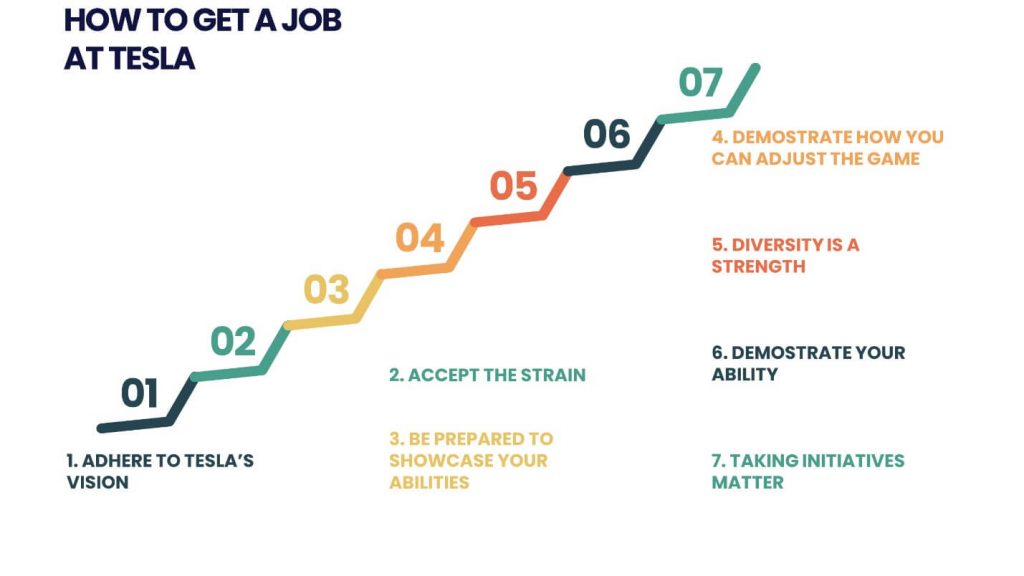 Frequently Asked Questions
What credentials are required to work with Tesla?
Tesla accepts applicants with a high school diploma, GED, and postsecondary automotive education. At least 18 years of age is required. Enter and complete each 16-week training program with a GPA of at least 85%.
Does Tesla pay well?
The average anticipated annual compensation at Tesla is $110,192, or $52 per hour, including base pay and bonuses. At the same time, the median wage gets predicted to be $114,033, or $54 per hour. At Tesla, a sales director earns $225,480 yearly, while a receptionist makes $38,015 in the same position.
How Difficult Is It to Work at Tesla?
Finding a job at Tesla is quite tricky. It would help if you used all your effort to make your resume stand out. The corporation gets tens of thousands of applications for each job posting on Tesla.
You must modify your application to the post you are applying for if you want to get placed on the shortlist. Read the job's criteria and responsibilities in detail, and then describe why you are the ideal candidate.
To be ready, you should analyze previous Tesla evaluation tests and interview questions. Tesla is picky regarding employees who share its commitment to sustainability and design. In your application, highlight your enthusiasm for sustainability and the automotive sector.
Conclusion
In conclusion, Tesla stands as an innovative firm. And if you desire to work with them, the tips above will aid you immensely.
Personal Opinion
Tesla does not hire anyone on the spot. The multibillion-dollar corporation Tesla has a wide range of appealing employment options. There is fierce rivalry for jobs in electric vehicle manufacturing because of its reputation. If you are considering applying to Tesla, you have arrived at the appropriate location but are unsure where to begin. The talents and personality qualities required to be successful in your job application have gotten discussed in the above sections.
References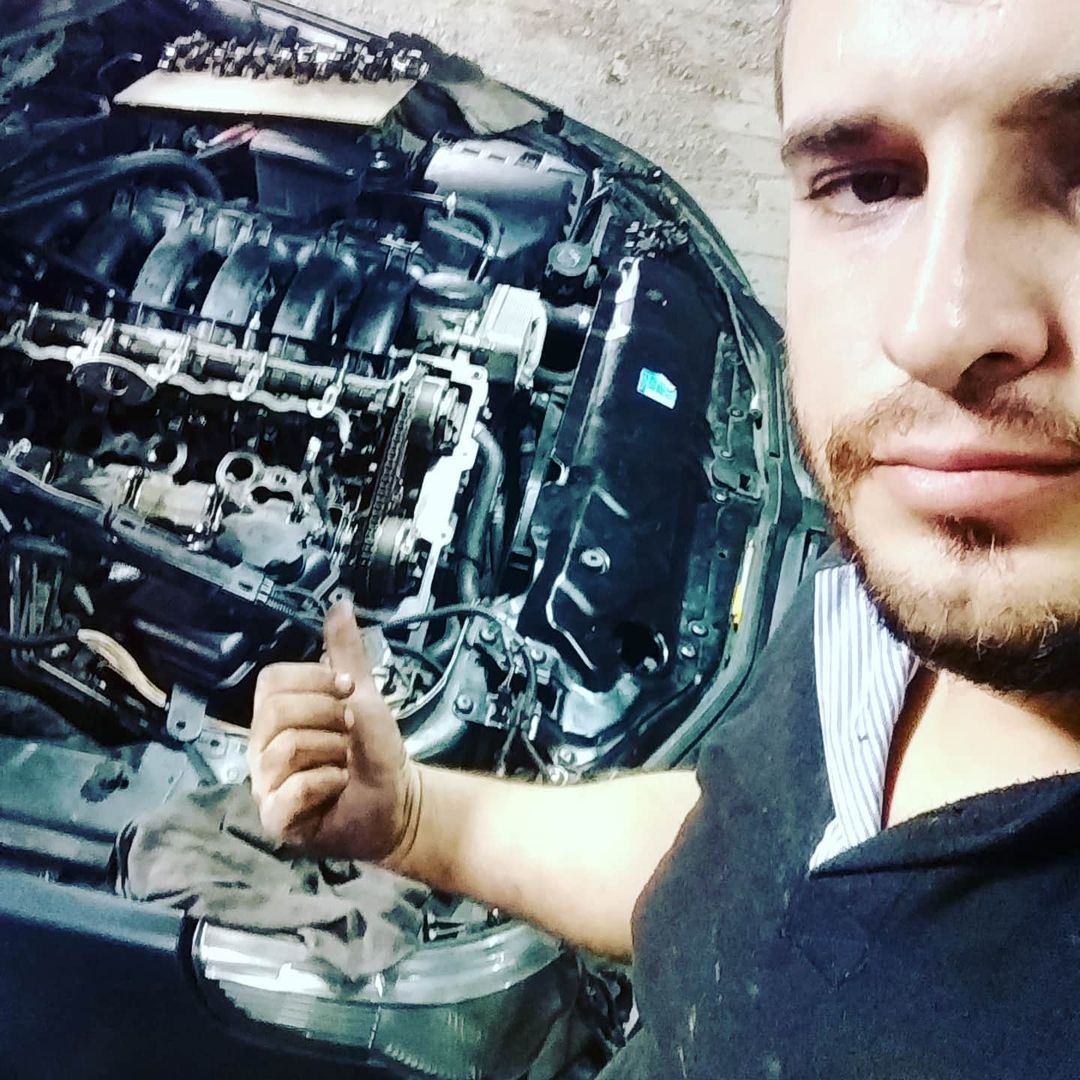 I am an Automotive specialist. I graduated from Michigan with Bachelor in Automotive Engineering and Management. Also, I hold degrees in Electrical and Automation Engineering (BEng), Automatic and Industrial Electronic Engineering, and Automotive Technology. I have worked at General Motors Company for over five years as the Marketing Operations Production Coordinator. Now, I own my garage in Miami, Florida. I love cars and love to share everything about them with my readers. I am the founder of the Automotiveex blog, where I share everything about automotive, like car news, car mechanical issues, and anything else that comes up in my blog posts.